From The Other Self | Paul Harvey
Torn paper, brown or coloured, collaged on the white. I squeeze paint on the paper, and smear it with my hand. I pick up a pencil. I knock on the door of Faery. The Other Self opens it, from the other side, in the Otherworld. We begin to draw. The drawing is a kind of dialogue between us. An intuitive magical language. A language of imaginative truth.
For purchases or to get in touch with the artist please email Paul Harvey on: paulfelixharvey@gmail.com
Note: All images cannot be reproduced without the consent of the owners/artists.
When:
May 4th – June 1st 2020
Where:
Square Edge Community Arts | Main Gallery
DEAD ALIENS - $300
Pencil, Collage, Acrylic on Paper
297mm x 420mm
THE LUNNAR RAYS - $300
Pencil, Collage, Acrylic on Paper
297mm x 420mm
LADDER UP - $300
Pencil, Collage, Acrylic on Paper
297mm x 420mm
WHO WILL GUIDE ME? - $160
Pencil, Collage, Acrylic on Paper
210mm x 297mm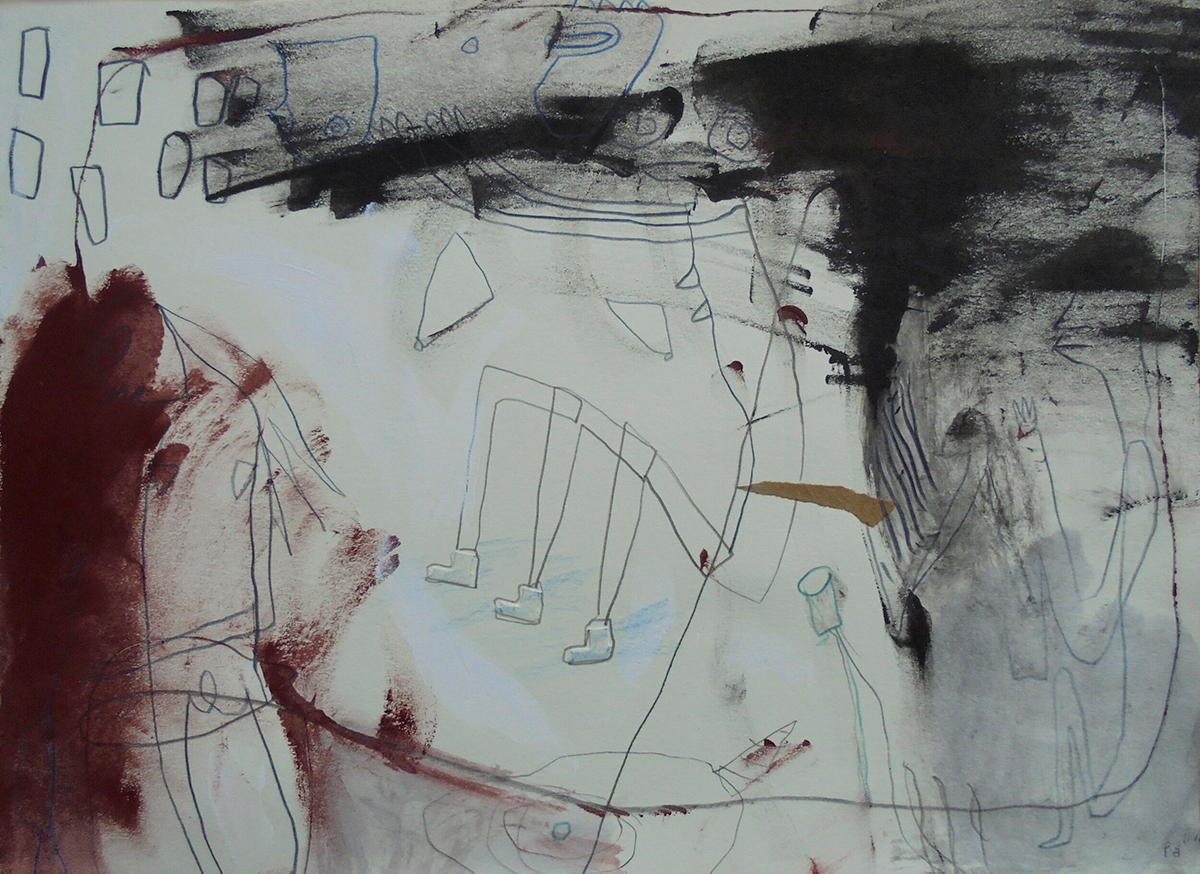 REACHING FOR THE BIRD MASK - $300
Pencil, Collage, Acrylic on Paper
297mm x 420mm
THE MYSTERY GUIDE - $300
Pencil, Collage, Acrylic on Paper
297mm x 420mm
FROM HER WATERS - $160
Pencil, Collage, Acrylic on Paper
210mm x 297mm
THEY CAME WAILING OUT OF THE REFUSE LAND - $300
Pencil, Collage, Acrylic on Paper
297mm x 420mm
ALLIED WATCHER - $160
Pencil, Collage, Acrylic on Paper
210mm x 297mm
WINTER WIND - $300
Pencil, Collage, Acrylic on Grey Cardboard 297mm x 420mm
THEY CAME BY NIGHT - $160
Pencil, Collage, Acrylic on Paper
210mm x 297mm
SPRING REMEMBERS YOU - $300
Pencil, Collage, Acrylic on Grey Cardboard 297mm x 420mm
SEEING IN THE DARK - $160
Pencil, Collage, Acrylic on Paper
210mm x 297mm
RUNNING, NEED A MASK - $300
Pencil, Collage, Acrylic on Paper
297mm x 420mm
BAD SPOT - $300
Pencil, Collage, Acrylic on Paper
297mm x 420mm