The original building that is now Square Edge Arts Centre was opened in 1892. It was first home to the Colonial Bank of New Zealand. In 1905 it housed the city library and later the Borough Council offices. In 1924 an addition, including a Council Chamber was added. In 1945 a significant upgrade was undertaken, designed by Reginald Thorrold Jaggard. The result is the deco-fronted beauty we currently occupy. The building opened again as the offices of the Palmerston North City Council. Some of the original building remains – including the old Council Chamber (now Evelyn Rawlins Room) and the historic stables in our courtyard.
In 1980 the Palmerston North City Council moved to its current home in the Civic Administration Building. The former council offices were deemed suitable for use as an arts centre by the Palmerston North Community Arts Council and management was given over to the newly established Manawatū Community Arts Centre Trust Board. The building was given the name Square Edge Creative Centre.
In 2004 management of Square Edge Creative Centre was handed over to the Palmerston North Community Arts Council, which continues to this day. In 2007 the building was refurbished and in 2010 it was painted its current colours and named Square Edge Arts Centre.
In 2020 Square Edge Arts Centre celebrates several milestones:
128 years since the original building opened

75 years since the current building opened

40 years since opening as an arts centre

16 years under Palmerston North Community Arts Council management.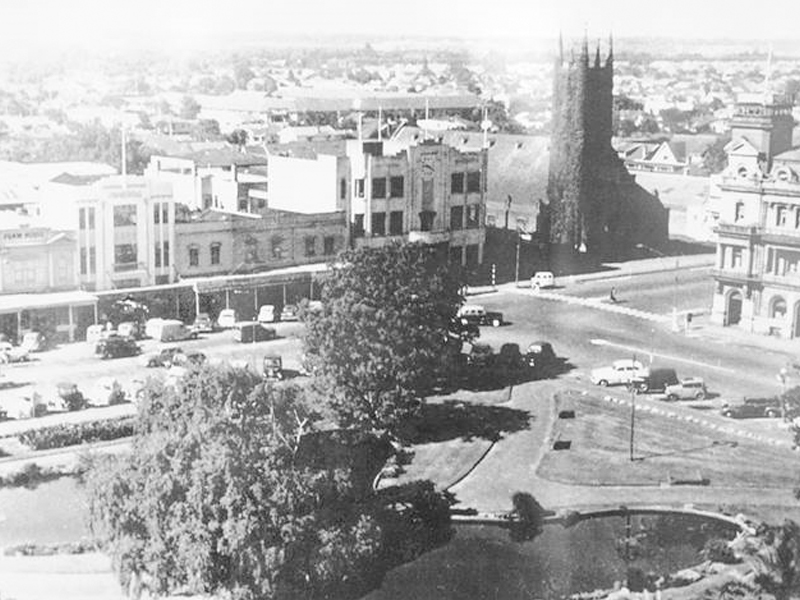 The Palmerston North Community Arts Council (now trading as Square Edge Community Arts) was incorporated under the Incorporated Societies Act in as a trust in 1972. The organisation boasts an amazing program which dates as far back as the commissions for `Under the sun' (1971) by Jenny McLeod, and `Te Papaioea' (1973) by Ian McDonald.
Our work primarily revolves around three cores areas:
 – developing and delivering arts programs
 – working with artists and the community
 – managing the delivery of Square Edge as an Arts Centre.
We are currently running as an incorporated society that is also a registered charity, governed by an elected Board of Directors.
In 2020 the Palmerston North Community Arts Council will turn 48.
Today Square Edge remains a colourful and vibrant building, dedicated to the cultural and arts communities. A refurbishment throughout 2007 has successfully brought modern features to this recongnisably historic building.
Housing a wide range of shops, businesses, classes and all kinds of artists and performers, the Square Edge Arts Centre offers a myriad of ways to connect creatively, within a beautiful art deco building.
Our Square Edge tenants and users offer classes, performances and workshops in language, drama, singing, music, dance, art, textiles, yoga and wellness therapy.
Come in and check out our new exhibitions each month, talk to us about our bookable spaces, wander upstairs and past working artists' studios, enjoy a coffee, and shop for local art, ethical plastic free groceries, flowers, gifts and much more.